"Supporting artists is one of my priorities because we are all enriched when we see and understand things in a new way."
Country Roads in Orange, CA is one of my troves for personal and business inspiration.  I enjoy incorporating reclaimed and vintage ingredients into my life-work.  Often, I share these sweet spots with friends and clients to fuel inspiration.  Daydreaming and sharing are mandatory ingredients for a handmade life.
The video below features Magnolia Pearl "Plantation" clothing by Robin Brown, she believes that "old is beautiful".  Her multi-faceted artistry and mediums envelope my senses.  From her social streams to her enchanting website visuals and music, there is an experience that unfolds and tells a story.  The designs of Robin's clothing are upcycled, comfortable…Oh là là.
Robin's soul for creativity also includes interiors, you can learn more on Amazon and purchase her book "Country Living A Bit of Velvet & a Dash of Lace: The Fabulous Interiors of Magnolia Pearl".  I also want to say that the photography stopped me in my tracks for hours!  Beautiful, brilliant, and real women…Yes!  Thank you Robin Brown for your vision, artistry, and your life-work.
Remember I mentioned sharing sweet spots with friends and clients?  Well, yesterday during a meeting with "Eagle Eye Jane" (please click to visit Jane's new blog site) she shared the unbelievable "Magnolia Pearl Ranch for sale in Bandera, Texas" (photography by Anne Lorys) and the Magnolia Pearl Clothing Giveaway.  The photography by Anne Lorys (Fiona and Twigs) is marvel material.  Thank you Jane!
To learn more please visit: Fiona and Twig website and grab the button to enter the
Magnolia Pearl Clothing Give-Away ~ Thank you Anne Lorys, Robin Brown, and John Gray!
Magnolia Pearl Clothing Giveaway


Ends March 15th, 2013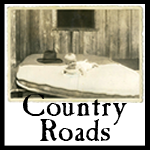 Spring is a great time to reclaim your style from the inside out.
Visit Country Roads Antiques and Gardens in Orange, CA.
Thank you Country Roads for blogging about Magnolia Pearl Ranch and clothing giveaway!
http://www.mycountryroads.blogspot.com/2013/03/magnolia-pearl-giveaway.html
Last but not least, I would like to share that my grandfather's name was Pearl Himes. Here's to the spirited people who stand out in our minds!